Technology For Sterilization
4 TIER STERILIZATION PROTOCOL

TIER 1 : SCRUBBING THE INSTRUMENTS THOROUGHLY IN WARM RUNNING WATER
TIER 2 : BIOSONIC- ULTRA SONIC CLEANING AID FOR CHEMICAL & ULTRASONIC STERILIZATION
TIER 3 : PACKAGING OF ULKTRASONICALLY CLEANED INSTRUMENTS ]IN SELF SEALING POUCHES
TIER 4 : AUTOCLAVING THE PACKED INSTRUMENTS IN FARO CLASS B AUTOCLAVE – THE GOLD STANDARD IN AUTOCLAVING.
Steilization Monitoring Certificate
We at Dr. Kathuria's Multi speciality Dental Clinic follow at the disinfection and sterilization procedures needed for infection control. We follow four tier sterilization protocol for non-disposable instruments. The clinic, now has a tie up with university of Louisville (USA) for sterilization monitoring procedures has recommended by American Dental Association (ADA) and Occupational safety and health administration (OSHA).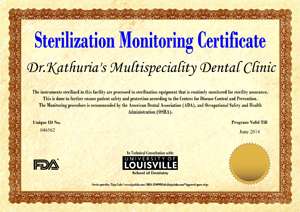 BioSonic Ultrasonic Cleaners
A complete ultrasonic cleaning system which consists of different cleaner unit sizes and unit accessories which provide you with the flexibility to efficiently clean and disinfect instruments, prostheses and other items.
Designed for user safety
FingerGuard instrument baskets keep sharp instrument points inside basket minimizing possibility of accidental finger sticks.
Raised ridges inside baskets for easy and safe removal of instruments.
Built-in drain with extra-long drain tube allows you to safely dispose of contaminated solutions without ever touching them. No lifting. No spills.
The fully functional cover returns condensation back into the ultrasonic bath to limit airborne contaminants into the work environment.
Wear-resistant plastic housing
Will not stain, scratch, rust or dent.
Remains esthetically pleasing for years.
Quiet performance
Tank cover completely encloses basket and beaker(s), significantly reducing noise level in your practice.
Precisely tuned performance for optimal cleaning and quiet operation.
Rubber pads on accessories prevent annoying rattle.
Synchronous timer
Precisely timed cleaning cycles
Cleaning cycles up to 30 minutes (UC50DB)
Cleaning cycles up to 60 minutes (UC300 + UC125)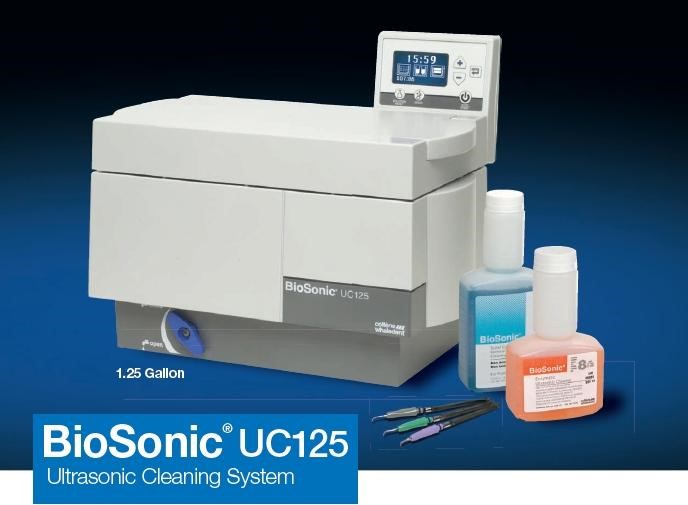 Autoclave SK07
Easy to use, low maintenance: the autoclave in its best shape
The SK07 class B Autoclave version 16 and 21 is the vanguard of the dental sterilization sector for which FARO's Research and Development department has accurately selected its new composition, using electronics of the latest generation produced with SMT technology. This technology allows to minimize energy and water consumption and requires very little maintenance. The design is sober and ultra-modern for a perfect integration in the dental clinic, increasing its overall aesthetic quality.
Specifications

Performs B-type cycles (121°C – 134°C – 134°C B-Flash – 134°C Prion) and test cycles: Bowie and Dick, Helix Test, Vacuum Test
B Flash Cycle while respecting the parameters required, can reduce the sterilization process time of the small loads (up to 0.5 kg – version 16 and up to 0.7 Kg – version 21)
OLED Display and user-friendly Control panel with 4 buttons to visualize instructions and information. NEW
Control of the physical cycle characteristics.
Integrated safety system to monitor every phase of the sterilization cycle and to inform the user about any possible failure.
Direct connection to the main water supply.
Quick coupling faucets to load the water tank and drain the draining tank rapidly.
Automatic load of the tank: all the autoclaves contain an internal tank to automatically charge the water and a tank for the used water.
Long autonomy: 10-12 cycles (version 16) or 7-8 cycles (version 21) with a single load of distilled water in the integrated tank.
Automatic loading of the tank by integrated water pump
Limited water consumption thanks to the water injection pump in the chamber, which is managed by a software that avoids any waste.
Low energy consumption: extremely low electricity consumption thanks to a copper chamber which has a better conduction capacity (compared to the ones in steel) and thanks to a resistance which is splitted in 3 software-managed sectors in order to avoid the heating where not necessary.
Automatic low-temperature Standby to reduce the preheating time saving energy.
Quick and easy porthole adjustment, by a simple pression on the button on the door and turning the porthole.
Maximum temperature uniformity: the temperature and the pressure remain steady inside the sterilization chamber.
"Last cycle" system: automatic advanced last cycle system, for a perfect dry of the loads.
The delayed start function allows to program the beginning of the cycle at any time. NEW
Possibility of activating a video alert that highlights the approaching end of the cycle. NEW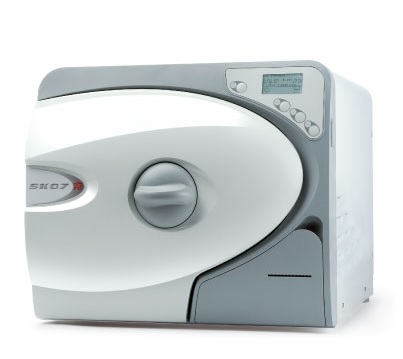 Autoclave Sterilixation Pouch Bags
Applicable to various medical institutions, such as using for sterilized packaging of medical surgical scissors, tweezers and other equipment, and medical equipment manufacturers, such as using for disposable sterilized packaging of medical catheters, syringes, sterile dressings
.
For: hospitals, outpatient sterilization packaging; beauty products sterilization packaging prior to use; laboratory supplies sterilization packaging; household high temperature sterilization packaging.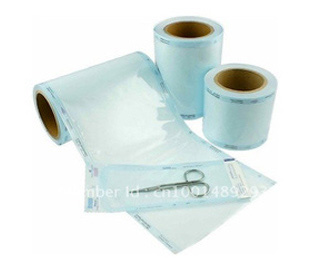 Gentinge SteamSterilization Integrator
Integrators provide immediate visual indication that critical parameters for sterilization have been met. Getinge integrators offer an accurate and easy-to-read method of monitoring sterilization process conditions.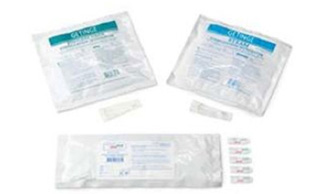 Durr System-Hygiene ID213
ID 213 contains alkylamines, quaternary ammonium compounds, non-ionic surfactants, complexing and auxiliary agents in aqueous solution. It is an fully virucidal aldehyde-free concentrate for the disinfection and is used for cleaning of general, surgical and rotary dental instruments.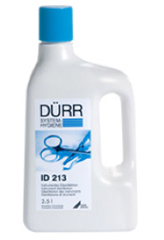 Durr FD 350 Disinfectant Wipes
Disinfection wipes with new improved formulation for wipe disinfection and cleaning of the surfaces of medical products.
Range of action: bactericidal, tuberculocidal, fungicidal 1), anti-viral 2) (covered viruses, incl. HBV, HCV and HIV) uncovered adeno viruses, uncovered polyoma viruses SV 40.
Modern combination of active ingredients: Alcohols. QAC