Dental Chairs Units
DENTAL TREATMENT UNIT (WITH CHAIR) HASTEFLEX V
Composition
Croma Chair
Delivery Unit Hasteflex
Versátil Cuspidor
Reflex LD
It has:
Exclusive base in cast iron
(stands and levers)
Provides stability as well as greater resistance and durability. It does not require floor fixation.
New upholstery
The new upholstery has received an extra layer of soft resistant polyurethane foam, thus providing firm and comfortable support for the patient, reducing tiredness and allowing for a less stressful treatment.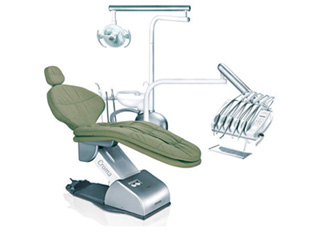 KAVO UNIK 5-T DENTAL CHAIR
It has the following features:
Optimal utilization of space
High level of intergration and combination
Perfect harmony between dentist and practice personnel through ergonomic work procedure
Wide range of models: technically and functionally optimal solutions are available, for nearly all practice concepts and suitable technical procedures: everything from one supplier
Maximum patient comfort: KaVo workplaces permit optimal dental care, treatment and advice for the patient
Very long life.
Easy to operate
Proven KaVo hygiene concept
Systems suitable for the future
Modern multimedia optims
Aesthetic and well rounded design