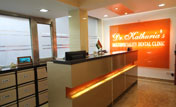 Dr. Kathuria's Dentistry is one of the best dental clinics in the capital city of Delhi and it is run by experienced and expert doctors. All the doctors who belong to the panel of dentists in Dr. Kathuria's Dentistry have acquired several degrees in their respective fields and are hence specialized dentists.
Specialized Doctors- Since the doctors have done their specializations there is a prosthodontist and an oral implantologist who is a specialist in the replacement of teeth by fixed bridges and oral implants. Another dentist is a specialist in root canal treatment and cosmetic dentistry; hence she is an endodontist and cosmetic dentist. They have another orthodontist in their panel who is a specialist in the treatment of braces.
If you need a specialist in gum surgeries, bone grafts and mobile solutions, a periodontist is available to carry out the treatment. The maxillofacial surgeon takes care of impacted tooth removal and jaw surgeries.
Affordable Rates- Are services are offered at a very reasonable price. There are significant cost differences if you compare the rates with US and UK. We offer a lower cost but do not compromise on quality. Our Dental treatment procedures are inline with the international standards.
Personal Touch- Dr Kathuria's Dental Clinic as a multispeciality dental clinic will provide you not only with the best dental treatment, but at the same time take care of all your needs during your stay. They will advice you and provide general information relating to shopping, dining, and excursions during your trip to India.
Dr. Kathuria's Dentistry therefore offers complete dental treatments with top class specialists. We welcome you to contact us at our dental clinic in New Delhi and we can make all the necessary arrangements for you. All the types of treatments offered by us and the respective charges are mentioned in our website. You can contact us and we will be happy to assist you with any travel related assistance as well. At the same time any queries on dental treatment will be answered by the specialists.