Family Privilege Card's Loyalty Program
Dr. Kathuria family privilege card is a loyalty program for all our existing patients and their families. It entitles them to receive top of the line dental care along with special benefits and discounts. If you are genuinely concerned regarding you and your family's dental care, then it is highly recommended to enroll into the family privilege card's loyalty program. You get all the different types of seasonal and special offers on different dental treatments at Dr. Kathuria's Dental Clinic.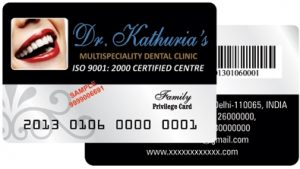 To receive your free Family Privilege Card kindly contact the Front desk of the clinic.
Here are the features of Dr. Kathuria's Family Privilege Card's Loyalty Program which serve for the patients visiting the clinic.
There is no membership fee to register for Dr. Kathuria's Family Privilege Card. So, you can utilize this prime feature at our clinic without facing any hassles or have any hesitation.
The points will be earned on the net payment made by the patient after their dental treatment and any discounts/offers (if there are any).
Customers who sign up for the loyalty program will earn points on their spending on various services offered by the clinic, 1 point will be credited against every Rs.100 spent on treatments.
Points of different cards cannot be clubbed for any service. So, you need to have the patience for redeeming the points.
Dr. Kathurias assures the complete privacy of  your data , it will not be shared with any third party without your prior permission.
Offers under Dr. Kathuria's loyalty program cannot be clubbed with any other offers/ discounts either on website or clinic.
A member can earn points or redeem points ONLY on listed services under loyalty program. This ensures that you can utilize different services associated with the loyal program of our clinic.
The membership points benefits and privileges are non transferable and may only be used by the family members.
Dr. Kathuria's family privilege card is non refundable. So, you cannot redeem points at any other location.
Redeemable points will only be exchanged for the dental treatments, not cash or any consumables. 
All discretion for privilege card's point system is with Dr. Kathuria. If you have any doubts or queries, then you can discuss with Dr. Kathuria.