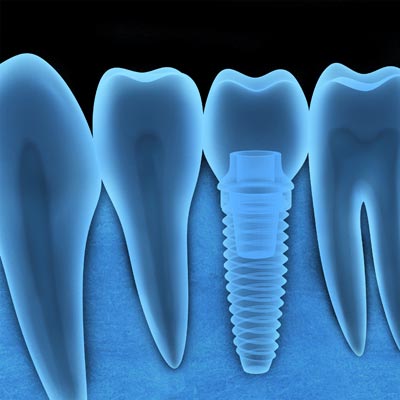 Dental Implants
Dental implants provide a strong foundation for permanent or removable prosthesis (replacement teeth) that are made to match your natural teeth. They are manufactured from biologically neutral pure Titanium or titanium alloys, that is accepted by the human body and these implants fuse with the jawbone to form a secure foundation for tooth replacement.
Types of Dental implants
There are two basic types of implants available at our dental clinic. In certain cases, conventional or immediate implants may be followed by immediate loading of crowns and bridges known as immediately loaded implants.
Conventional Implants
Conventional implants are applicable to almost anyone who is looking to replace one, multiple, all missing teeth with a permanent restoration solution.
Conventional implants are done in 2 stages normally in 2 trips about 3 to 6 months apart.
Conventional implants may be done for most types of bone conditions. If there is moderate or severe jaw bone loss, bone grafting may be recommended prior to dental implantation.
Immediate Implants
Immediate implants are also known as one day or same day implants.
This is the case whereby dental implants is placed during the same time after teeth are extracted. Crowns, bridge, dentures may or may not be placed on during same trip depending on whether immediate loaded implants may be done.
Immediate implants are normally recommended only for cases with good jaw bone conditions.
Immediate Loaded Implants
Immediate loaded implants are whereby permanent or temporary crowns,bridges or dentures are placed during the same trip when the dental implant posts is embedded in jaws.
Immediate loaded implants may follow after conventional implants or immediate implants.
Immediate loaded implants are normally recommended only for cases with good jawbone conditions.
DENTAL IMPLANTS CASES
Full Upper Arch Restored With 8 Dental Implants
Multiple Lower Front Teeth Restored With 3 Dental Implants
Upper Full Arch Restored With 7 Dental Implants & Malo Bridge
Restored Front Lower Tooth Replaced With Dental Implant
Missing Single Front Tooth Replaced With Immediate Loading Implant
Multiple Missing Front Teeth Restored With Dental Implants
The type of dental implants selected will be dependent on the patients' specific needs and general dental condition. A panoramic x-ray and/or CT scan is usually required to evaluate the amount of bone, determine the space available and for a thorough examination to diagnosing the options best suited for each case.

There are a variety of dental implant systems available on the market. The two most popular systems are the Nobel Biocare implant systems & Alpha Bio Implant system. Both companies have had long-standing histories in the field of producing dental implants and have their own ranges of lines.
Benefits of Dental implants
BETTER S.E.L.F. (Speak better, Eat better, Look better, Feel better)
Improved self-esteem and increased quality of life
No need to trim the adjacent teeth to form the conventional bridge
Improves speech as compared to having dentures
Improved comfort relative to removable dentures
Prevent further loss of teeth and bone support
Improved and younger, natural appearance
Improved oral health
Durability. Implants are very durable and have expected life for a long number of years replacement for lost tooth
No slipping, sliding clicking dentures or worrying about your dentures popping out in embarrassing situations
CHOICE OF DENTAL IMPLANTS (WITH STRAIGHT ABUTMENT)
We use only top end dental Implants – Nobel Biocare from Sweden & Straumann from Switzerland.
Nobel Biocare: Replace Select / Straumann BLT, each implant costs Rs. 35,000
Nobel Biocare: Active, which can be used for immediate loading in the well healed bone (implant + crown simultaneously*), thereby reducing the procedure to single stage. Each Implant costs Rs. 45,000.
The call to do the implant + crown simultaneously* depends on host of factors including bone density.
CHOICE OF CROWNS
Porcelain fused to Base Metal crown/bridge is Rs. 7500 each
Porcelain fused to metal crown (CAD-CAM designed) "Screw retained" costs Rs. 10,000 each.
We also offer top end Zirconia metal free Crowns (Brands like Procera; Lava: ZirCAD) each of which costs about Rs. 15000.
Zirconia metal free crown-Screw retained – (Procera from Nobel Biocare-Sweden)-each costing Rs. 20,000.
TIME FRAME & SITTINGS
We prefer to do the Implants in 1st visit along with temporaries, which should be changed to permanent Porcelain teeth after 6 months time, hence we recommend a second visit to us after at least 6 months. But if the conditions are fine, we can do IMMEDIATE LOADING with Crowns during the same visit. Each visit should be for at least 7-14 days time.
MANEN TAMANG
Got dental implantdone, liked the professionalism during the treatment. Doctors' attitude, comfort and hygiene at clinic is excellent. It was great when the clinic could accommodate and expedite the process as I was in Delhi just for short time.
DARYL WAGONER
I had a dental implant at Dr Kathuria's clinic, one of the best in India. I am extremely satisfied with the quality and expertise of the procedure. I highly recommend having any dental care done here. The staff is very professional and friendly. Best regards from the US.
FAQ's: