Dr.Puneet Kathuria, an eminent Dental Implants specialist of India, presented the "Implants supported prosthodontic management of fully edentulous arches" at AOI Confrence at Hotel Grand, New Delhi on 24th September-2011.

Dr.Puneet Kathuria, shared his vast knowledge with the packed house of dentists with at least 13 different types of cases where about 123 Implants were placed to restore, a toothless upper jaw or lower jaw or both.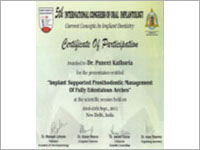 He received great accolades from the audience as never they had seen so many cases with so many Implants being placed & restored with Crowns/bridges so beautifully. Dr.Puneet Kathuria, being one of the top dental surgeons in New Delhi, truly lived upto the expectation of the audience.