DIGITAL SHADE MATCHING
Dr.Kathuria's Multispeciality Dental Clinic in New Delhi, India, is one the first ones to procure the Vita Easy shade-Compact, for a digital shade matching for all their patients of cosmetic dentistry.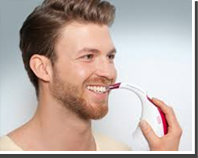 It's a unique product which makes the treatment of cosmetic dentistry much more predictable when it comes to shade matching. The top cosmetic dentist in Delhi, Dr.Kathuria is one of the few in India to have this facility.